Solnox roof blinds are a perfect companion for your smart, modern and contemporary VELUX ® windows, finishing them off in style.
Not only does our blinds look great, but hey will make your life so much easier. The outside of the blind is silver coloured to help reflect the heat while blocking out the sun to ensure your room stays cool and airy while looking sleek and smart. At the same time the dense material serves as insulation on the inside of your window thus reducing heat loss in the winter.
Solnox blinds are blackout blinds so they will keep the sun out and the blind fits perfectly with your VELUX ® roof window.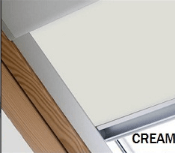 Reasons for buying Solnox blinds
- Our own Solnox brand made to measure for VELUX ® roof windows
- 100% polyester blackout fabric
- Easy to clean and maintain (just wipe with a moist cloth)
- Easy installation system with full instructions
- Keeps the light out effectively
- Helps keep the room cool during hot days while reflecting the sun rays.
- Helps reducing heat loss on cold days while acting as an additional layer of insulation before the window surface
- Premium brushed aluminium rear cover and brushed aluminium housing with aluminium side channels
- All brackets and screws included
- Most popular VELUX ® sizes (GGL/GGU/GPL/GPU/GHL: C02, C04, C06, M04 M06, M08, M10, P04, P06, P08, P10, S06, S08, U04, U08 F04, F06, F08). See our size table here.
- Engineered for a perfect fit
- Massive saving compared with equivalent VELUX ® blinds - FREE shipping in Belgium! b>